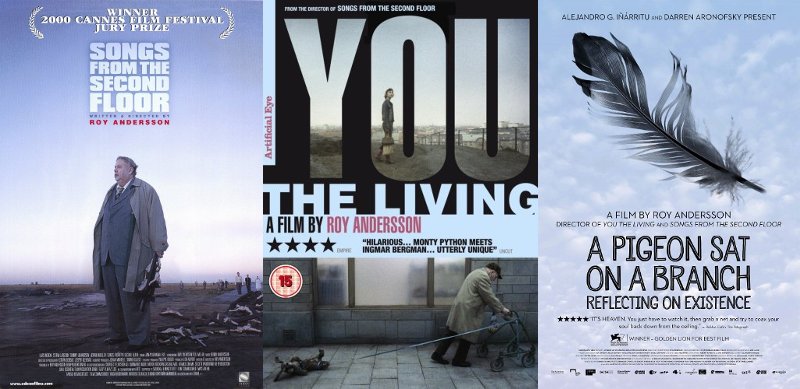 spayku rates them as below
Songs from the Second Floor (2000) - 9/10
You, the Living (2007) - 8/10
A Pigeon Sat on a Branch Reflecting on Existence (2014) - 7/10
I recently came across the film on the internet after having been waiting for it to be released for very long but forgot about, only to find out that there were 2 more preceding it. Was kind of annoyed by the fact that I was going to watch 2 movies just to watch the one I initially wanted to watch, but it definitely ended up being worth my time. I invested one night each for the trilogy and here's a glimpse of what I thought about them.
In this abnormal world these characters exist in, they make it seem like normal, and when it gets repetitive I would just find myself burst out laughing. Watching these films has been somewhat soothing, and I didn't see any violence in it, thus not any tense moments to be dealt with emotionally. Characters are to be met, not to be entertained from. People in it are very accepting and even when there's a conflict, they don't react to it immediately with aggression.
People are miserable, very sad, full of regrets and failures. It's almost like accepting the places you live through and people you interact with, and just experiencing it all in an apathetic way, but not entirely giving up on life. Fortunately, not everyone is on the same page, and there are those who break out of their shells and show reactions and be loud hoping that something will change. Some sorts of oppression are shown in scenes and no justice to be served. We would hate these moments, but would laugh at more. Do I feel sorry? I don't know, tendency to fight the obstacles and competing nature of people are vanished in this world unlike what we see the people acting on the movies.
Color grading of the movie, the camera being standstill throughout, way that not much is being played in the background as an enhancement, and the acting seem like the combination of the most boring film you would ever watch, but it really hasn't been the case in any of them. I would say that the titles of these films are pretty ambitious for what they really show to us viewers, but then again, maybe I'm just used to seeing much too action and too clear of a point(yet shallow ones) that is constantly being forced upon me to make sure that I get what the filmmakers wanted me to get out of the film.
Overall, a very worthy and unforgettable experience from watching this trilogy because you don't see this kind of story-telling and cinematography that often.
side note - probably the best known film critic in the history - Roger Ebert seems to have been a devoted fan of Roy Andersson's works, and it's kind of sad that he didn't get to watch the final installment of the trilogy.